This post has been compensated by Collective Bias, Inc. and AcneFree. All opinions are mine alone. #AcneFreeSummer #AcneFreeLife #CollectiveBias
Ah, acne! How I despise you so. Chances are we all had a little run-in or two with some not so friendly visitors on our face at some point this summer.
Summer is
very sadly
coming to an end, but that doesn't mean that having clear skin has to! Just like a healthy workout routine should be year-round, so should your skincare! I'm always taking care of my skin with the right products and change them up just slightly throughout the seasons.
If you've been following my posts, you aren't new to my handful of photos from Greece and Israel. I traveled for just over two weeks and basked in the Mediterranean sun makeup-free for days.
Yes, I wore sunscreen. Don't come at me!
It might sound silly, but before leaving for my trip I was worried about my skin. I knew I wasn't going to wear much makeup, and
definitely
wasn't going to be wearing foundation, so I did everything in my power to keep my skin clear and acne-free.
I know how important clear skin when it comes to our confidence. In high school, I broke out like crazy my junior year and couldn't figure out how to tame it. I was trying every product on the market (mistake number one), and I was so impatient and frustrated when it came to finding the right products.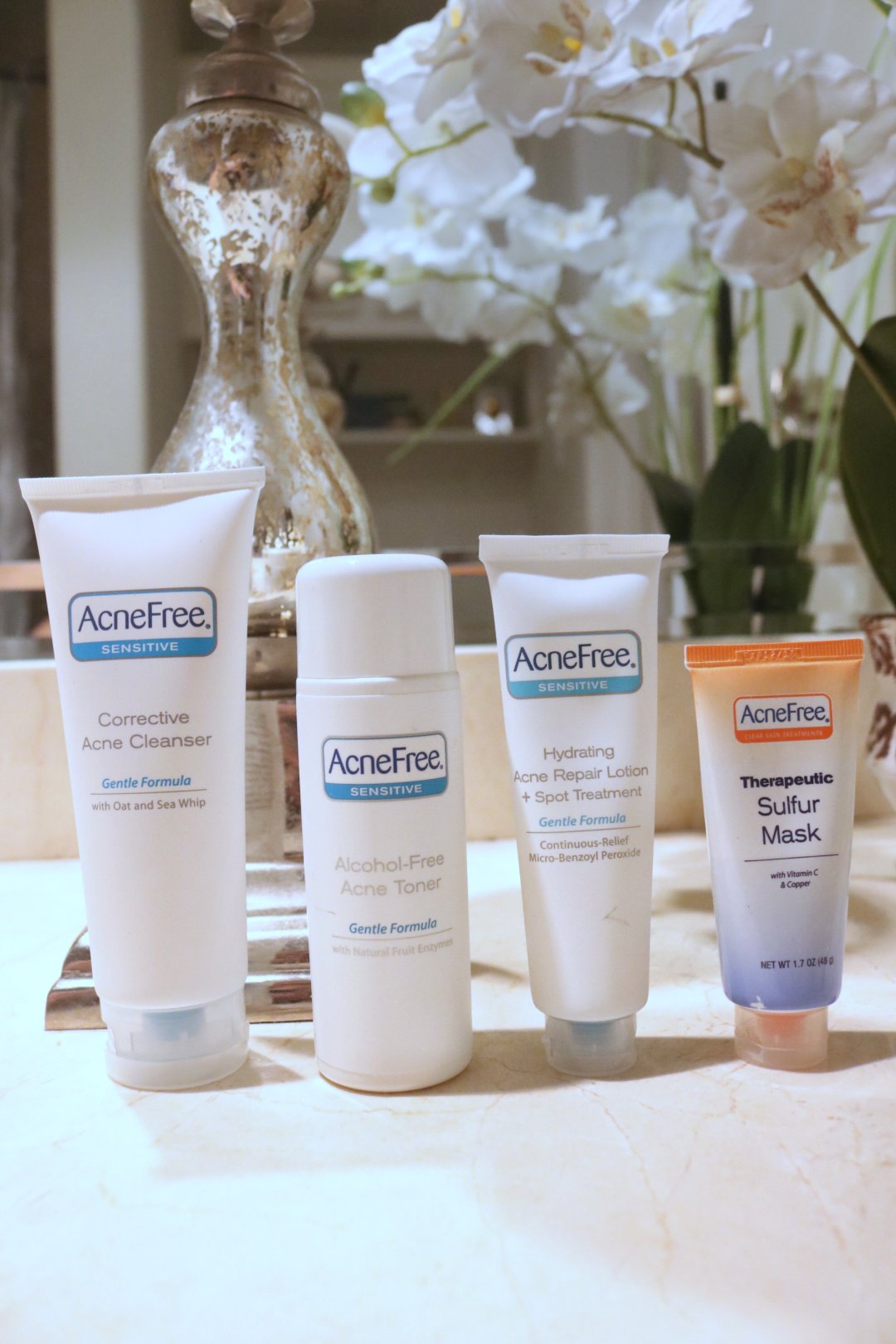 Hover over this image to shop these products!
With back to school season around the corner (or already happening for some of you), I knew it would be a great time to talk all things clear skin, confidence, and to talk about some products that give my skin the TLC it needs.
I've been using the AcneFree Sensitive Skin 24 Hour Acne Clearing System + Spot Treatment to keep my breakouts at bay, and I am seriously impressed.
Skincare can rack up a credit card bill, and AcneFree products are effective, affordable, and are accessible to everyone. Of course, I bought mine on Amazon (and yes, they ship Prime)!
The Sensitive Skin 24 Hour Acne Clearing System is the
only
acne regimen designed specifically for sensitive skin. It doesn't make my skin feel dry like other products I've tried in the past.
The three-step system controls new breakouts, reduces redness, and eliminates blackheads with consistent use. My main issues are breakouts, especially when I'm sweating in the gym, and blackheads/clogged pores.
My favorite part of the AcneFree Sensitive Skin 24 Hour Acne Clearing System is that it's formulated with Advanced Micro-Benzoyl Peroxide, which works faster than traditional Benzoyl Peroxide and penetrates deeper into the pores.
Believe me when I say that if I'm not cleaning out my pores well after I hit the gym, my face retaliates. My pores speak to me like, "HELLO, clear us out please and thank you".
The AcneFree Sensitive Skin 24 Hour Acne Clearing System includes the Corrective Acne Cleanser, Alcohol-Free Acne Toner and Hydrating Acne Repair Lotion + Spot Treatment. Forget having a million acne products on-hand -- These three have you covered for clear skin.
Here's a play-by-play for the three steps:
Step 1:
Corrective Acne Cleanser:
gently deep-cleans to unclog pores. This cleanser is sulfate-free and fights acne with Salicylic Acid (1.5%) while botanical extracts help soothe the skin. I like to use this in the evenings before bed and immediately after I workout.
Step 2:
Alcohol-Free Acne Toner:
balances skin tone and removes dead skin cells with natural fruit extracts. I apply a small amount on a cotton round and use after cleansing. I don't know why, but this is my favorite step!
Step 3:
Hydrating Acne Repair Lotion + Spot Treatment with Micro-Benzoyl Peroxide:
offers 24 hour non-stop clearing when used twice a day. The formula is easily absorbed into pores to eliminate acne bacteria and provide continuous breakout control,
perfect
for fitness girls like myself.
After I tone, I use a small amount of this lotion as a spot treatment on any unwanted spots or clogged pores.
OK, so washing our face isn't so sexy, but we all know a mask is.
I love a good pamper session, so I also use the AcneFree Therapeutic Sulfur Mask on days when my skin needs a little extra TLC.
This mask penetrates deep into the pores to sooth inflamed skin and absorbs any extra oil. I'm a
huge
fan of sulfur in skincare -- sulfur is perfect to treat acne, and the mask is also formulated with Vitamin C, Copper, Zinc, and Meadowsweet help.
The Therapeutic Sulfur Mask does everything I want a mask to do: help minimize the appearance of my pores, refines my skin tone, and events out texture.
It's hard not to have fun with this mask! Massage it into your face until it turns blue for about 3 minutes, and then leave on for 10 minutes. Light a candle, soak in the bath, make your man rub your feet, whatever you can fit into a pamper routine.
To share the clear skin love with you all, AcneFree is launching a 4-week sweepstakes beginning today! 3 Grand Prize Winners will win $1,000 spending money and AcneFree Supplies for a year. PLUS, AcneFree will give away 10 AcneFree 24 Hour Acne Clearing Systems every week for 4 weeks.
Take the #AcneFreeChallenge (you could see visible results in as little as 3 days):
To enter, simply enter your name and email address at
http://cbi.as/9rasp
. You can also use the form to follow on Instagram and Facebook to earn extra entries. No purchase necessary!
For more info and full rules, log on to
http://cbi.as/9rasp
. To see how others are enjoying their acne-free skin, check out
http://cbi.as/8336w
.
Let me know if you enter the sweepstakes or if you've tried any AcneFree products before! Let's keep our skin clear through the fall, please!
xx